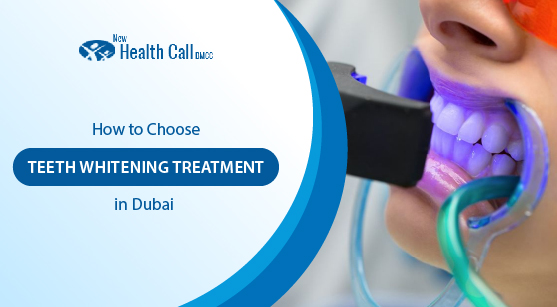 Are you thinking about getting a session for teeth whitening in Dubai? If the answer is yes then you should know that by opting for this treatment you are giving yourself a chance to remove any types of discolouration to your teeth caused due to your everyday lifestyle and eating habits that no home- kit can effectively remove.
You should be pleased to know that the procedure of teeth whitening in Dubai is more accessible and effective than it was a few years ago. Therefore, if you've tried using home-kits the difference in quality when you try teeth whitening in a clinic in Dubai will be greatly visible to your eye. Especially since this is a professional cosmetic procedure the results can be amazing.
To know more about how the procedure of teeth whitening in Dubai works and how you can benefit from it, here are a few things that you need to know :
Things to Do Before Teeth Whitening 
Teeth whitening products are easily available in the market today which makes people forget that the procedure is entirely cosmetic and needs professional guidance for real success. Professional treatment for teeth whitening in Dubai is a non-invasive procedure that is safe and can change your looks for the better. However, before you go ahead and get an appointment with your doctor for the treatment, here are a few things you should do.
Visit your dentist regularly for a check-up and a full clean up. The check-up will help your dentist determine if the treatment is right for you since some of the stains might have been caused due to medication or disease and might require more intense procedures.
Purchase some desensitizing toothpaste in case you have sensitive teeth. Whitening procedures come with a common side effect of teeth and gum sensitivity. The desensitizing toothpaste can help and alleviate some of the discomforts you might experience during or after the treatment.
While you're there, get a full clean. An excellent clean removes the plaque and tartar that builds up in hard to reach places and is hard to remove at home. Tartar, plaque and other sediments impede the impact of the whitening treatment. Clean teeth help you make the most of every session.
What Happens During Teeth Whitening in Dubai?
The procedure of teeth whitening in Dubai depends on the kind of treatment that a person selects. Like many do-it-at-home, most teeth whitening procedures provide treatments using a stronger version of hydrogen peroxide gel that's only suitable for use with professional supervision. When your dentist calls you for the treatment they will make a final examination to ensure that there no last-minute issues. Once they're confident that you're ready, they start to prepare your mouth for the treatment and afterwards you can smile brightly with pride.