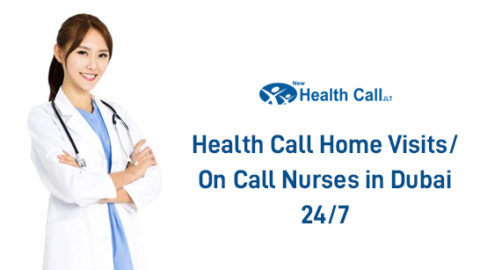 At Health Call your health is always important to us whether you visit us in our multispecialty clinics or we visit you at a time and place of your convenience. We are proud to offer a wide variety of health and aesthetics care to you in our clinic and also on call, in particular our Home Nurses cover all areas of Dubai and play an important role in the health and wellbeing of our patients.
Our home care nurses are experienced and trained in providing the optimal level of care to you in your home or place of residence. Our nurse on call services is available 24/7 to treat most non-emergency medical care in the comfort of your own home or hotel. They can cater for short term or long term care as tailored to the individual's requirements and needs.
We provide highly qualified DHA licensed nurses to your home to help with a variety of issues. It is known that being treated in the comfort of your own home can help with the healing process much quicker than being in a hospital setting. Highly qualified specialized doctors support all of our nurses who are trained in a wide variety of treatments.
What services do our home nurses provide?
They offer a variety of services, below are the main ones which we provide:
» IV therapy (rehydration, medication, vitamin/antioxidants)
» Medication profile education and administering
» Injections
» Wound care
» Post-surgical care
» Bathing and hygiene
» Post-natal medical care
» Elderly care
» Respiratory and cardiac care
» Lab specimen collection
What are the benefits of Home nursing services?
There are numerous benefits to using home care nursing and below are just a few:
Familiar surroundings – Having to stay in clinical and unfamiliar hospital surroundings for long can have a negative impact on  patients mental health and wellbeing and can actually make them feel worse, leaving them feeling stressed and alone due to their surroundings. This can also be more difficult for family and friends who want to visit them and spend time relaxing with them.
At Health call our In-home nursing care helps provide the patient with the professional medical care that they require but in their own familiar surroundings. Being in the comfortable and know environment of your own home helps the mind relax and relieve stress. Which is better for the patient and those who want to visit them
Promotes healing and reduces the risk of infections – Home nursing care helps to keep the patient protected from possible  infections that they are exposed to in hospitals or outside in waiting rooms or moving aroid different wards or clinics. Post-surgery and critical care could leave patients more sensitive to the risk of relapse and infection. At home nursing care can help the patient heal better and faster due to less exposure to infections and quicker reaction time of the nurses caring for the patient.
Medication management – When a patient suffers from various medical ailments then their use of medication tends to increase. With doctors giving different medicines for different problems, prescription management and medication management is extremely important especially in elderly patients or those who get confused while taking medicines. At Health call our nurses assist in ensuring that the correct medications are taken at the correct time to avoid potential health problems for the patient, such as overdose, mixing of medications or missing some medication for a long period of time. Our caring and professional nurses are trained to manage prescriptions and medication to ensure that the patient gets sufficient and correct care and medication at the right time.
How much does it cost?

At Health Call we have a number of prices and packages to suit you, please contact us and we will do our very best to help you. In-hospital care is usually much more expensive and it is not always possible to keep the patient in hospital for a long period of time since it is not cost-effective or ideal for the patent. Our home nursing care provides professional medical care equivalent to hospital nurse standards but to the patient in the comfort of their own home and is highly cost-effective when compared to in-hospital care. It is the ideal solution.
What other services do we provide on call?

We have introduced on call services where we can continue to provide our top class service to you at your home, work or hotel room with a large number of specialties and unique services. In addition to our Nurses and Doctors on call we also offer IV therapy, oxygen therapy and glutathione (super antioxidant) as on call services.
One such service which compliments our Nurses on call are our Doctors on call. Both of these valuable services are available 24/7 to treat you in the comfort of your own home or residence, our doctors are backed and guided by highly specialized physicians when needed to give you the best treatment possible. We will provide fully qualified and experienced doctors whom are licensed by Dubai Health Authority (DHA) to treat you in the comfort of your own home/office or hotel room at your convenience, for many treatments including these:
» Lab specimen collection
» Providing general advice or health education in conjunction with other health professionals
» Prescribing medication as necessary
» Recommend treatment
» Refer patients to specialist or consultants for tests and further diagnosis if  required.
» Physical examinations
» Diagnose and treat common illnesses/ailments.