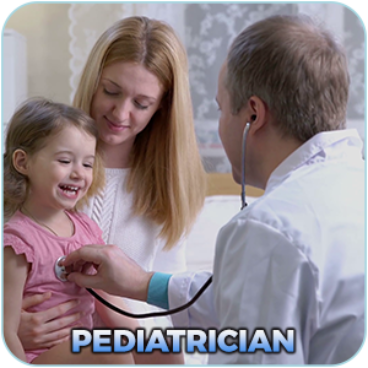 Health Call Department of Paediatrics treats children from infancy up to adolescence and offers educational programs for parents about their child's health and development. Our paediatricians work closely with colleagues across all disciplines to ensure children are provided with optimal care.
• Management of acute & chronic general pediatric diseases.
• Management of common OPD neonatal problems.
• Infant nutrition , breast feeding education program.
• Well baby clinic and strong immunization program from birth up to 16 years.
• Infectious diseases prevention and treatment.
• Regular Growth and Development monitoring for babies and children.
• Dietary and nutritional guidance.
• Diagnosis and management Asthma..
• Diagnosis and treatment of allergic conditions.( chronic cough & allergic rhinitis & eczema , & allergic reactions )
• Bed wetting clinic (nocturnal enuresis), and urinary tract infections.
• School and sports physicals.
• Ear piercing.
Dr. Nagwan Said Mohamed
Pediatrician
• Dr. Nagwan obtained her M.B.B.S from the Cairo University in Egypt in the year 1995.
• She further obtained her Post Graduate Diploma in Pediatrics from the Suez Canal University - Egypt in 2002.
Dr. Nagwan has more than 20 years' experience in the field of General Pediatrics and Neonatology, including 8 years work experience in Al Naser General Hospital. She worked in the Neonatal Intensive Care Unit and Pediatric department in a tertiary care hospital in Port Said, Egypt.
• She has further worked in Al Baha, Kingdom of Saudi Arabia for 3 years as a Pediatric Specialist.
• Dr. Nagwan works at CEDARS – Jebel Ali International Hospital as Registrar Paediatrics since 2010 to 2017 .
She has undergone Basic Life Support ( BLS), and Paediatric advanced life support ( PALS) And Neonatal resuscitation program ( NRP). in Collaboration with American Heart Association( AHA) And American Acadamy Of Paediatrics .( AAP).
• Her Special Interest in Routine care of Newborns, Critically ill Neonates, Paediatric Immunization Program, Child Growth and Development, Childhood Bronchial Asthma. And Respiratory Diseases.